Step Up Your Style: The Surprising Advantages of Wearing Leather Shoes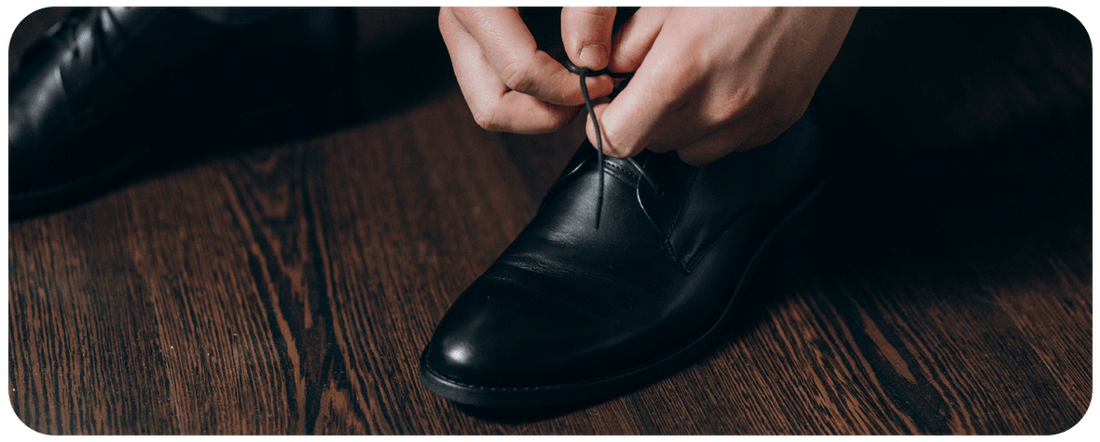 When it comes to pigeonholing shoe materials, there is an eminent choice that stands above all-Leather. The resilient, all-natural, and aesthetically pleasing shoe-hide brings a spectrum of incredible advantages making leather shoes, a no-brainer for many. But don't take our word for it. Take reference to the prehistoric wearers who adorned the material themselves.
Did you know that scientists once discovered a leather shoe 5500 years old, crafted from single-laced cowhide? Humankind has trusted the material since 3500 B.C.
Worry not, we won't be dwelling in history far too long. Today, leather is the modern incarnation of stature, class, and formal elegance. And if you are still not considering a leather shoe, here are some facets that will help you out. Let's explore the practical and premium advantages of wearing leather shoes in this piece of writing:
Incomparable Quality and Durability
There's no need to elaborate on the durability of leather shoes. It's not hard to see why leather lasts so long. Leather shoes are a great choice for individuals who want an investment that will last a long time because these kicks are always resistant to wear and strain. As long as you are using real and genuine leather shoes from companies like Zoom Shoes, you may need not look to shop for another pair for a year or so. Also, no synthetic materials have not yet been developed that can compete with leather in terms of durability.
Leather shoes are a popular footwear choice because they last a long time and mold to the shape of the wearer's feet. This results in superlative comfort. Leather shoes, in fact, can be customized to better fit the shape of your feet and gait. The leather becomes softer and more conforming with use, making it more pleasant to wear for long periods. Without compromising on style or quality, every pair of new leather shoes will soon feel tailor-made for you. Jerusalem Sandals also provides trendy women's footwear.
Epitome of Style
Yes, Leather shoes for men and women defy trends and fads. Leather is one of the oldest materials used to make shoes, and despite the ebb and flow of fashion trends, leather shoes show no signs of going out of vogue any time soon. Leather's adaptability makes it a great material for a wide range of shoes, from tough winter boots to long-lasting summer sandals. The malleability of leather to many design aesthetics has led to its use in a wide variety of shoe styles and concepts. From formal dress shoes to casual women's slides and beyond, there is a stylish leather shoe pair for everyone.
Did you know the word Shoe comes from the Old English word Scoh which was originally used to refer to a type of protective foot covering made of leather.
Practicality
Leather shoes are resistant to common cleaners. In fact, some leather shoes are manufactured with water leather which is resilient and forgiving. These pairs can withstand exposure to a wide variety of substances. That makes it simple to freshen up once it becomes dirty. In a short amount of time, leather can be restored to near-new condition using leather-safe conditioners and a soft, nonabrasive brush or cloth. To revive worn leather and eliminate unsightly stains or water damage, you can use products designed specifically for leather.
Additionally, leather shoes are easy to maintain and can be polished to restore their shine and extend their lifespan. Due to their versatility, leather shoes are suitable for a wide range of occasions, from casual to formal. Such practical benefits make them a popular and reliable choice among all footwear.
Grace and Earthiness
Leather is a natural material that is obtained as a by-product of the meat industry from the hide of livestock. Due to its natural origin, it does not contain any harmful chemicals or toxins, making it safe to use in your home. To ensure that you are using pure and natural leather, choose leather shoes made from high-quality and natural ingredients. At Leather Shoes, we use natural leather to ensure that the original aspect of the leather is not compromised.
Another unique characteristic of leather shows is that they age gracefully. Unlike other footwear that loses their charm as they age, leather shoes actually look better with time. In fact, some leather manufacturers intentionally pre-age their leather to give it an antique and stylish appearance. As leather shoe ages, it softens, making them more comfortable and enjoyable to wear.
Concluding
If you are thinking to join the debate about whether to go for leather shoes or others, you cannot go wrong if you volunteer with the former. These timeless beauties are undoubtedly one of the most durable and elegant shoe categories you will invest your money. Being a top-notch pick for centuries, leather shoes reign supreme in the modern footwear arena. If you are considering shopping for a new pair, do check out the elegant and exclusive handmade leather shoe collection from Casual Shoes.
Author Bio

Meet Rijul Soni driven by a passion for education and staying updated with evolving trends, Rijul Soni embarked on a journey of knowledge-sharing through blogging. He hails from Punjab and has pursued B.Tech from NIT Jalandhar. After working as an Operations & Analytics Consultant in Bangalore, he joined Zoom Shoes, his family's business. As the 'Head of Brand E-Commerce,' Rijul propelled Zoom Shoes to new heights, making it available on major marketplaces. With a vision to be India's top brand for genuine leather footwear, their motto is #LetsBuildTogether.