From Sole to Soul-Mastering the Art of Shoe Care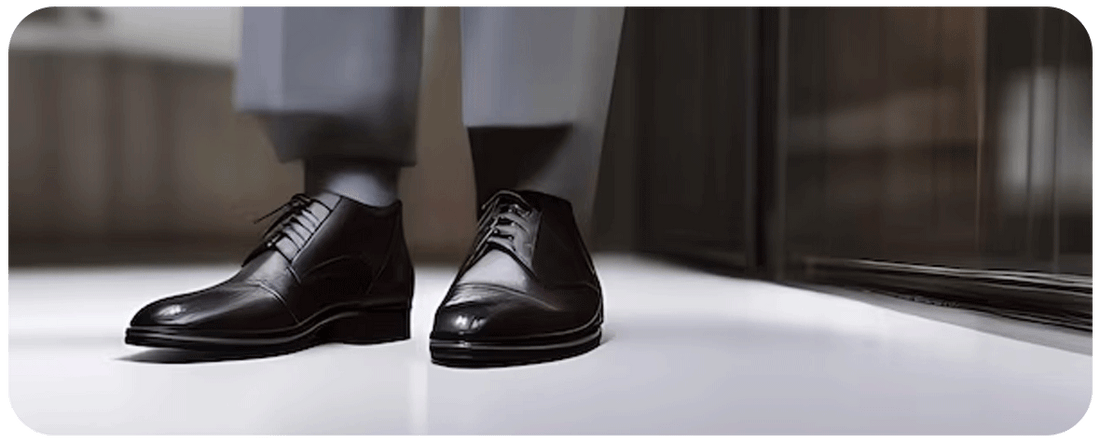 Your shoes are not just an accessory, they can make or break your outfit and even impact how you feel about yourself.
As the saying goes, shoes maketh the man (or woman).
But did you know that proper shoe care is essential to prolonging their lifespan and keeping them looking great?
Step into your shoes, and take a walk with us down the path of perfect shoe maintenance.
From Sole to Soul - we're here to equip you with the essential tips, tricks, and techniques for mastering the art of shoe care.
Whether you're an avid sneaker collector or prefer timeless classic styles, our expert guide will help extend the lifespan of your favorite pair while keeping them looking pristine.
So lace up and join us on this journey toward elevating your shoe game!
Keep Moisture At Bay
Shoes, especially the leather beauties, are not water babies. Unless you are looking for bathroom footwear, most shoes you come across will dislike moisture. Water can age the material faster. Moisture can even lead to bacterial accumulation that may further result in fungal infection.
While we cannot control the moisture in its entirety, we can use a good care regime to make sure that the shoes remain dry and intact. Some of the essential ways to do so are:
Keep silica pouches that retain moisture
Use paper stuffing, as shopkeepers do, to remove any sign of moisture(make sure that you change the stuffing every week)
Do not wear or store your shoes before allowing them to dry out completely
Dry or wipe the shoes immediately when you get in contact with water
Avoid wearing your foot-cuddling beauties in humid or rainy weather
Let Your Shoes Breathe
Shoes do not like closed bags or spaces. To that end, it is not a gentleman's game to store them in closed pouches or compact storage furniture. The more air they get, the fresher they will be. Try to use wider shoe closets with air ventilation. When you need to pouch them, use cloth or jute bags instead of plastic or paper ones. Here are some other tips to go along:
Do not store any wet or moisture-retaining objects near shoes
Always give your shoe a good sun bath once a month to remove any odors
Keep your shoe closet in a wide open area for good air ventilation
Avoid storing your shoes in closed boxes or pouches
Always clean your shoes before storing
Avoid stuffing the shoes on top of one another or all together
Keep at least a distance of at least 8 to 10 inches between the shoe pairs when storing them
Do Not Cling to a Single Pair
We get it. You have a pair that you cannot head out without. Everyone does. But like any healthy relationship, your shoes need space. The thumb rule is to avoid over-wearing your shoes. This can literally help elongate their life, keeping them in good shape. When you wear the same pair over and over again, it might wear and tear faster. Here are a few tips to help you out with this shoe care regime:
Keep 2 or 3 pairs and rotate them. Do not wear a single pair on a daily basis
While rotating shoes is a good sign for shoe care, it will also add variety to your fashion appeal
If you love a pair, you can get the design in a different color to add variation while retaining comfort and style
Shop from the same brand to get the same quality you are already wearing
Rely On Good Brands
No matter how much one takes care of a cactus plant, it will stay thorny, it won't turn into Lilly.
The genes cannot be altered.
In the same manner, no matter how much you try to care for a shoe pair, the brand value will decide whether the shoe will stay with you longer or not.
It's better to avoid leaving things to chance. Simply count only on good brands while shoe shopping. There are plenty of reputable brands in the market that will give you the worth of your money. Try out Zoom Shoes - an artisan brand that manufactures exquisite quality shoes.
Buying from reputed and good brands also are a way of getting a good return on investment. You may very well consider paying a higher amount upfront for a good pair, rather than regretting the decision of buying an ordinary shoe pair that didn't last even for a month.
Here are a few more reasons why you may consider shopping from decent brands like Zoom Shoes:
Quality Assurance
Reputed brands have established their name in the market by consistently providing high-quality products. When you buy shoes from a reputed brand, you can be assured of the quality of the material, the craftsmanship, and the overall durability of the shoes.
Ethical Concerns
Materials like leather are often associated with animal cruelty and exploitation. However, reputed brands like Zoom Shoes are more likely to follow ethical and sustainable practices in sourcing their leather, ensuring that the animals are treated humanely and the environment is not harmed.
Customer Service
Reputed brands have a reputation to maintain, and therefore, they are more likely to provide excellent customer service. If you encounter any problems with your shoes, a reputable brand is more likely to address your concerns promptly and offer a solution that satisfies you.
Long-term Investment
Good quality shoes are a long-term investment, and you want to ensure that you get the best value for your money. Buying from a reputed brand ensures that you get high-quality shoes that will last for years, making it a worthwhile investment.
In A Nutshell
Unshined or uncared-for shoes mark the decline of a person's personality. What's more? You do not want to brush aside your fashion's essence with untidy shoes. Right? If you are still not caring for your shoes, gear up and walk on the tips we suggested. And if you are doing it already, you deserve a pat on the back. In the end, always remember, to take care of your shoes and they will take care of you
Author Bio

Meet Rijul Soni driven by a passion for education and staying updated with evolving trends, Rijul Soni embarked on a journey of knowledge-sharing through blogging. He hails from Punjab and has pursued B.Tech from NIT Jalandhar. After working as an Operations & Analytics Consultant in Bangalore, he joined Zoom Shoes, his family's business. As the 'Head of Brand E-Commerce,' Rijul propelled Zoom Shoes to new heights, making it available on major marketplaces. With a vision to be India's top brand for genuine leather footwear, their motto is #LetsBuildTogether.