Why Black Leather Chelsea Boots are a Must-Have in Your Wardrobe?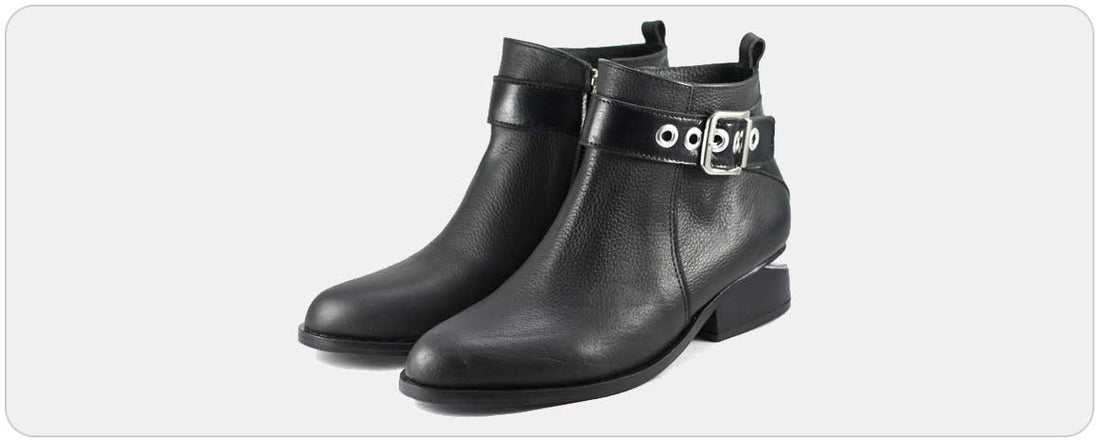 When it comes to footwear, some styles never go out of fashion, and black leather Chelsea boots are one of them. These versatile boots have been a fashion staple for decades, and for good reason. Black Leather Chelsea Boots are a fashion item that has stood the test of time. These stylish Black Chelsea Boots have been a favorite of fashion icons and celebrities for decades, and they continue to be a popular choice among fashion enthusiasts around the world. The sleek and timeless design of Black Leather Chelsea Boots has made them a must-have in any wardrobe, providing a versatile footwear option that can be dressed up or down for any occasion.
Versatility and Durability
One of the biggest advantages of black leather Chelsea boots is their versatility. For a casual look, pair them with jeans and a t-shirt, or dress them up with a suit for a formal event. They look equally great with a leather jacket or a wool coat, making them a perfect choice for both fall and winter. Chelsea boots also work well with a variety of styles, from classic to contemporary, making them a smart investment for any fashion-forward wardrobe. They are made from high-quality leather, which is known for its durability and strength. Unlike synthetic materials, leather boots can withstand wear and tear, and will last for years if properly cared for. A good pair of black leather Chelsea boots will become a staple in your wardrobe for many seasons to come.
Comfort
Comfort is always a key consideration when it comes to footwear, and Chelsea boots do not disappoint. They are designed to provide ample support to your feet, thanks to their sturdy construction and ankle support. They also have a flexible sole that allows for ease of movement, making them ideal for everyday wear. Furthermore, black leather Chelsea boots are incredibly breathable, which means that your feet will remain comfortable and cool, even after extended wear.
Style
Black Chelsea boots are undeniably stylish and have a timeless design. The sleek silhouette, clean lines, and minimalistic design make them a perfect complement to any outfit. The elastic goring on the sides of the boots adds an extra touch of sophistication, making them a versatile footwear option that can be worn for any occasion. Additionally, the black leather material gives them a sleek and polished appearance that never goes out of style. They're versatile enough to go with anything from jeans to a dress. Black Chelsea boots look great with skinny jeans, trousers, chinos, and even shorts. They also work well with different types of jackets and coats, such as denim jackets, leather jackets, and wool coats.
Suitable for Any Weather
Black leather Chelsea boots are suitable for all types of weather conditions. They are perfect for keeping your feet warm and dry during the cold and rainy seasons. In the summer, they provide a great alternative to sneakers and can be worn with shorts and a t-shirt for a trendy and comfortable look.
Variety of Designs
Black leather Chelsea boots come in a variety of designs, which allows you to choose the style that best suits your taste and needs. For instance, you can opt for a plain black leather Chelsea boot or choose one with decorative details, such as a buckle or studs. You can also select one with a high or low ankle, depending on your preference.
4 Style Guide for Black Leather Chelsea Boots
1. Formal Attire: When it comes to formal occasions, black leather Chelsea boots can add a touch of elegance to your outfit. It can give you a smart and sophisticated look.
You can pair the black leather Chelsea boots in following way:
Suit and Tie: Wear your black leather Chelsea boots with a well-tailored suit and a classic dress shirt. Opt for a slim-fitting suit to create a sleek and urbane look.
Tuxedo: For black-tie events, pair your boots with a tuxedo. Choose a slim-fitting tuxedo and pair it with a crisp white shirt and a black bowtie for a polished and contemporary look.
2. Business Casual:Black leather Chelsea boots can be a great choice for business casual attire. They strike the right balance between formal and casual.
Consider the following options:
Dress Pants and Blazer: Pair your boots with tailored dress pants, a button-down shirt, and a well-fitted blazer. This combination exudes professionalism while maintaining a relaxed vibe.
Chinos and Sweater: Combine your Chelsea boots with chinos or khakis and a stylish sweater. This ensemble is perfect for a smart-casual office environment.
3. Casual Attire: Black leather Chelsea boots can elevate your casual outfits to the next level. These shoes not only add more comfort to your casual outings but also add more elegance and grace to your ensemble.
Here are a few suggestions:
Jeans and T-Shirt: Opt for slim-fitting jeans, a plain t-shirt, and a leather jacket. Complete the look with your black leather Chelsea boots for a cool and effortless style.
Chinos and Button-Down: Pair your boots with rolled-up chinos and a casual button-down shirt for a relaxed yet put-together appearance.
4. Evening Out: When you're heading out for a night on the town, black leather Chelsea boots can be a great footwear choice.
Check out the following outfit ideas:
Dark Denim and a Blazer: Wear dark denim jeans, a crisp white shirt, and a well-fitted blazer. Complete the look with your black leather Chelsea boots for a refined and trendy style.
Tailored Trousers and a Sweater: Pair your boots with tailored trousers and a fitted sweater. This combination exudes class and is suitable for various evening occasions.
To Sum Up
Black leather Chelsea boots are a must-have in your wardrobe due to their versatility, durability, comfort, and timeless style. Investing in a good pair of black Chelsea boots is a smart decision that will pay off in the long run. At Zoom Shoes, we offer a wide range of high-quality black leather Chelsea boots that are both stylish and comfortable. Our boots are made from premium leather and designed to provide ample support and comfort to your feet. So, if you're looking to add a pair of black Chelsea boots to your shoe collection, check out Zoom Shoes for the best selection and quality. You won't regret investing in a pair of these classic and stylish boots.
Author Bio

Meet Rijul Soni driven by a passion for education and staying updated with evolving trends, Rijul Soni embarked on a journey of knowledge-sharing through blogging. He hails from Punjab and has pursued B.Tech from NIT Jalandhar. After working as an Operations & Analytics Consultant in Bangalore, he joined Zoom Shoes, his family's business. As the 'Head of Brand E-Commerce,' Rijul propelled Zoom Shoes to new heights, making it available on major marketplaces. With a vision to be India's top brand for genuine leather footwear, their motto is #LetsBuildTogether.