How Leather Shoes For Men Can Spruce Up Your Personality?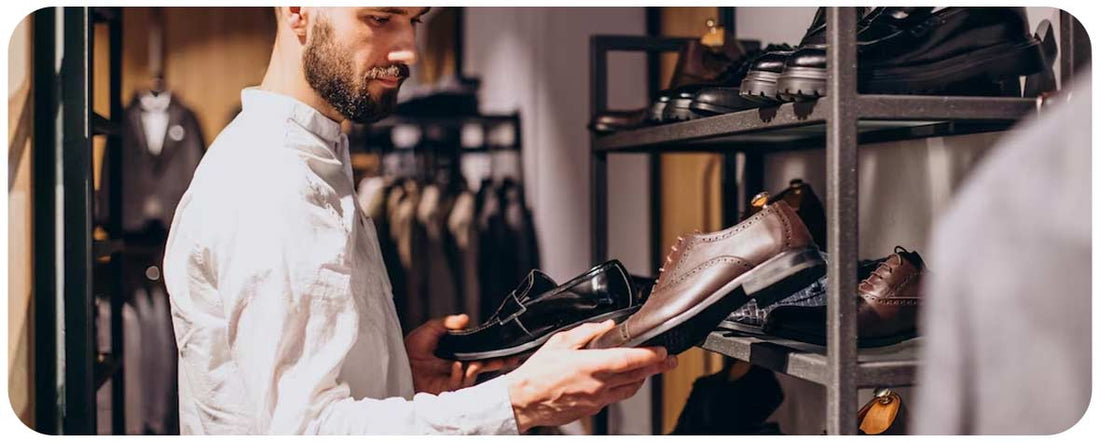 Leather shoes can help you feel more confident and ready to take on the world. In addition to being a sleek, fashionable pair that sets off an outfit, contemporary styles of Leather shoes for men prioritize the feet by providing cushioning and security.
In comparison to other materials, leather is distinguished by a number of unique characteristics. And that's why a classic pair of oxfords will always be in fashion. However, some continue to favor a less formal appearance or, due to the high cost of genuine leather shoes for men, opt instead for cheaper imitations. Even though the price is slightly higher than regular pairs, the many advantages of this design make it worthwhile.
One of the best fashion tips for men is to invest in a single, excellent pair of shoes. Full-grain leather shoes for men may be more expensive up front, but they are well worth the investment because of how their long life.
The Top Benefits of Leather Shoe Materials
Full-grain leather shoes for men are the best option because they last longer and are more comfortable than any of the substitutes.
You can rest assured that your feet will be very comfortable in leather shoes or boots because leather is a natural material that allows your feet to breathe and forms to the shape of your foot over time. However, synthetic materials are unpleasant to wear when temperatures rise because they don't allow air to circulate.
Since they can be dressed up or down, shoes made from high-quality full-grain leather are among the most sought-after fashion accessories.
Leather footwear is a closet staple that will never go out of style. They can be worn with a suit, pair of jeans, or a T-shirt. They are versatile but can also help you express your uniqueness in many ways.
Leather shoes for men will always be in style and are a necessity for any closet. They're versatile enough to go with anything from a suit to a pair of jeans and a t-shirt. In addition to their adaptability, they also have the potential to enhance your individuality in a number of ways. In this post, we'll discuss the many ways in which a good pair of leather shoes can complement your personality.
They are versatile but can also help you express your uniqueness in many ways. In this post, learn how a quality pair of leather shoes for men can elevate your personal style.
Enhance Your Appearance
An improved first impression is the most obvious benefit of investing in quality leather footwear. There is a wide variety of leather footwear, including Oxfords, Brogues, Loafers, and Derbys. Each style is unique in its own right, and you can easily mix and match it with various ensembles. Finding the right pair of Casual Leather Shoes can elevate your outfit and helps you make a unique fashion statement.
Boost Your Confidence
Putting on a pair of Casual Leather Shoes that looks good and feels good can boost your confidence. The durability and softness of leather mean that it's possible to wear shoes for many hours without feeling any pain. You can focus on your work or recreation without worrying about your feet hurting. When you're calm and collected, you have more faith in your abilities.
Make a Statement
Casual Leather Shoes are a classic accessory that can transform any ensemble. You can express yourself and stand out from the crowd by going with an unconventional look or shade. Red leather shoes for men, for instance, can liven up an all-black ensemble, and black brogues can lend an air of refined sophistication to a more casual getup.
Improve Posture
If you wear the wrong shoes, your posture could suffer. Leather shoes are structurally engineered to help you stand tall and straight. Leather shoe wearers are less likely to adopt unhealthy postures like slouching or hunching over, which is good for their overall health. If you want to appear taller, leaner, and more assured of yourself, work on your posture.
Enhance Your Professionalism
In the business world, leather shoes for men are a must-have. They are the standard footwear for interviews, job fairs, and other professional events. Wearing Casual Leather Shoes is a simple way to look more put together and shows that you value your profession. Wearing leather shoes is a surefire way to impress people and set the tone for the rest of your outfit.
Lasts Longer
Since they last so much longer than other materials, leather shoes are a wise purchase. A well-maintained pair of leather shoes can last for decades if treated with respect. You make an investment in your future and in your personal style when you buy a good pair of leather shoes.
Be Precise
Wearing leather shoes for men is a sign that you care about appearances. Each pair of Casual Leather Shoes is handcrafted with attention to detail and is one-of-a-kind. Wearing leather shoes from Zoom Shoes communicates your appreciation for fine craftsmanship and your keen eye for detail. This careful consideration of detail will help you make a strong and memorable first impression.
Versatility
Because of their adaptability, Casual Leather Shoes are frequently worn. They can be worn with either formal or casual attire. Wearing leather sneakers with jeans and a t-shirt is a great casual look while wearing leather boots to the office with a suit is more formal. Leather footwear is a fantastic investment because of its versatility.
Finally
Leather shoes for men are recommended due to their versatility and style. If you're looking for a new pair of leather shoes, look no further than Zoom Shoes. At Zoom Shoes, you can find retro and modern shoe designs crafted from the finest leather.
You can rest assured that you will get your money's worth out of a pair of their shoes because they are built to last. You can buy from us confidently knowing that we are dedicated to ethical and environmentally responsible business practices. What's the point of holding off? Upgrade your look and character with a pair of leather shoes for men from Zoom Shoes right now.
Author Bio

Meet Rijul Soni driven by a passion for education and staying updated with evolving trends, Rijul Soni embarked on a journey of knowledge-sharing through blogging. He hails from Punjab and has pursued B.Tech from NIT Jalandhar. After working as an Operations & Analytics Consultant in Bangalore, he joined Zoom Shoes, his family's business. As the 'Head of Brand E-Commerce,' Rijul propelled Zoom Shoes to new heights, making it available on major marketplaces. With a vision to be India's top brand for genuine leather footwear, their motto is #LetsBuildTogether.