6 Reasons Why Men's Leather Boots Should Be in Your Shoe Collection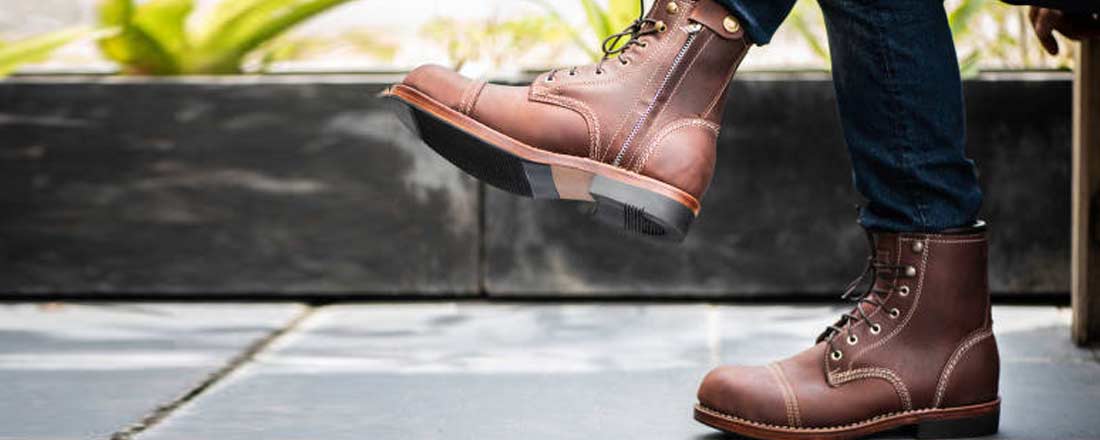 We often ask ourselves: why should we wear boots? We tend to store them in the closet, because we don't find them beautiful enough to put on. However, there are a thousand and one reasons to wear them, and to make them an essential model. When the temperature is cold and it is humid in autumn/winter, for example, leather boots and high shoes are essential. Since regular shoes will no longer be able to provide the security or support your feet need. You will discover in this post, the 6 reasons why Men's Leather Boots to be part of your shoe wardrobe.
The Main Types of Men's Leather Boots
Need I remind you again? Boots are thick shoes with a long collar. Depending on the different uses for which they are intended, this collar can go up to the calf, to the knees or to the thigh. The boot can have a utilitarian or aesthetic function. Indeed, we basically distinguish between three types of best boots for men that are worth mentioning before we get into the nitty-gritty.
Dress Boots
Generally speaking, dress boots are designed with a leather sole, high quality polished leather. They are similar to dress shoes in design, but they are more durable than the latter and just as stylish.
Military Boots
Military boots are a must-have model. They are inspired by the boots worn by military personnel around the world. They look very regulation and usually feature a classic design that allows the wearer to easily change the tension of the boot at the ankles.
Casual Boots
Casual boots are usually made from softer leathers like suede or boots with a sport sole. The purpose of these leather boots for men is to provide the wearer with a suitable style to wear with more casual outfits.
1- Leather Boots are Durable
The first reason why you should opt for the leather boots is indeed their durability. The harder it is, the more it resists. And that's what you need to think about when it comes to choosing an accessory for your feet. Always bet on what has durability, that is, choose quality. In fact, quality helps your wardrobe accessories last and saves you money. By doing so, your accessories will be more efficient and profitable, since you won't have to buy them day to day or prepare them all the time.
Indeed, it is all the strength of the boots that you will find at Zoom Shoes.
Which Leather Boots To Choose When Looking For Durability?
Leather of course! Fabrics such as suede and canvas are not resistant to unpredictable weather conditions. That's why when shopping for foot accessories (men's boots), you should definitely avoid them. Instead of these types of fabrics, choose leather directly.
High-quality leather is usually sourced from cowhide, whose strength and durability can withstand rain, wind, and snow. Leather is also 100% waterproof, if cared for properly.
To prevent your boots from wearing out, all you need to do is take a few steps. Be sure to buff them frequently, condition them with leather conditioner weekly, and be sure to dry them out after they get wet. Waterproof spray is also a good idea to maintain the appearance of leather longer.
If your leather boots are wet, stuff them with newspaper. This helps dry them out, reduces odors and prevents the boot from warping as it dries. In summary, leather is the best material for durability and is an essential choice for any man wanting a tough pair of boots.
2- Leather Boots are Resistant
Simple boots are stronger than shoes. Most good shoe makers hope that their boots can be used for a long time through heavy use and various harsh conditions. After all, what good are the shoes that fell apart after the first nature hike?
Let's face it; leather boots are bigger than regular shoes. Is this a bad thing? Absolutely not, the boots are durable and are the most durable shoes a man can buy.
The best quality products are made from high quality leather. Zoom Shoes products are made of high-quality leather, while inexpensive products are usually made of leather or faux leather. Often, higher quality means a higher price, so pick a grade that's right for you and be careful not to go over your budget.
3- Leather Boots Give You More Grip
Have you ever slipped on a sidewalk or fallen on muddy cobblestones? It hurts and it doesn't do a man's image any good. No one wants to be covered in mud while their friends laugh at their comedic meltdown.
You need a good thick sole with heavy tread.
How Do You Know If The Leather Boots Are Slip Resistant?
Leather soles look great, but they aren't the best when it comes to traction. Scoring the sole with a sharp knife will create instant tread and help create friction on slippery surfaces. You can also apply an inexpensive adhesive sole.
Think about it—if you were driving cross-country, you'd outfit your 4×4 with all-terrain tires. The same principle applies to your shoes. The thicker the tread, the safer your tread will be.
4- Leather Boots Give You More Support
When you step into a puddle with shoes on, you may end up with wet socks, and cold feet which would not be the case with a boot. To avoid such a situation, you should definitely turn to chukka boots that offer you the possibility of choosing different height options.
The majority of men's boots offer you a high level of protection against cold and humidity. We recommend that you favor boots above the ankle line to ensure that you use a quality and resistant accessory.
Leather Boots for Men Offer Tireless Support for the Ankles
Thanks to their height, the best men's leather boots not only protect your feet, but also, and most importantly, provide a higher level of support for your ankles on long days. They are almost tireless.
If you are used to walking long distances, or like to do so occasionally, you need to consider ankle support. This will keep your feet and legs healthy. To do this, they pinch your ankles and force them to have a good posture during your walks. That said, when traveling or walking all day long, you won't sprain your ankles or damage them. It is then, almost impossible for a man's ankle to bend away from the foot when wearing boots, which is not the case with shoes. With the boots on, do not be afraid to cover a long distance on foot.
Besides, a good pair of durable men's leather boots can provide you with strong ankle support, to prevent ankle injuries.
For this, you cannot ignore an investment in an extremely resistant accessory. Men's boots are primarily designed to support your ankles and prevent them from common problems.
5- Leather Boots Offers Immense Protection
The best men's boots are the accessories you should go for on your feet to enjoy the options of a durable and hard-wearing accessory. They are a very good protection for your feet. Because the soles of your feet are one of the most sensitive areas of your body, it is essential that you remember to protect them without fail.
If you are working on rocky terrain, take care to protect your feet. For this, opt for resistant, durable, and reliable foot accessories. In this context, you can turn to the best men's boots instead of simple shoes.
6- Leather Boots Give You More Versatility
The best men's boots are in the list of must-have accessories for a real man. They offer a wide variety of choices to its owner, each of which meets the specific expectations of each clothing and style. This is how dress boots remain as versatile as dress shoes.
Many conventional shoes like monk suspenders still don't give you the choice to wear them over any style. Wearing jeans over dress shoes never looks stylish. That's why you should avoid these shoes to opt for men's boots.
The best boots for men are necessary for a man to dress well. They give you value and importance to any style. They also represent a means offering you a wide choice and making you versatile in your choices.
Which Leather Boots Are The Most Versatile?
Whether worn over jeans or over a jacket and tie, the best boots for men are accountable and aesthetically pleasing to all of these styles. They draw their versatility from their slightly voluminous structure which makes them aesthetic and comfortable for any style.
Chelsea boots are a great example. Pairing black or brown Chelsea boots with jeans can be very stylish and could set you apart from the crowd of men who often don sneakers and sandals. They can give a very classy edge to an otherwise casual outfit.
The other very important advantage is that these same Chelsea boots can be worn with a suit and tie in the office. The criteria you must take into account for your choice are none other than the color of your belt, watch and bracelet as well as the classic rules of tailoring. It all depends on your taste and the shape of your boots.
Final Words
Beyond the fact that the leather boots give you comfort and support, they also look good. Thanks to their aesthetics, they protect you against the cold by keeping you warm without compromising your look.
This could be an important asset to seduce women. Because these are the shoes a woman notices first in a man. Whether it's a stylish Chelsea boot or a tough military lace-up, when you put it on, you become more attractive and unique in a woman's eyes. That's why boots are not only worn for the many reasons we saw above, they help you seduce and make you want. So you have no reason not to put on a boot this winter. Find beautiful, resistant and attractive boots at Zoom Shoes.
Author Bio

Meet Rijul Soni driven by a passion for education and staying updated with evolving trends, Rijul Soni embarked on a journey of knowledge-sharing through blogging. He hails from Punjab and has pursued B.Tech from NIT Jalandhar. After working as an Operations & Analytics Consultant in Bangalore, he joined Zoom Shoes, his family's business. As the 'Head of Brand E-Commerce,' Rijul propelled Zoom Shoes to new heights, making it available on major marketplaces. With a vision to be India's top brand for genuine leather footwear, their motto is #LetsBuildTogether.