From Boardroom to Bar – Versatile Leather Shoes for Men for Every Occasion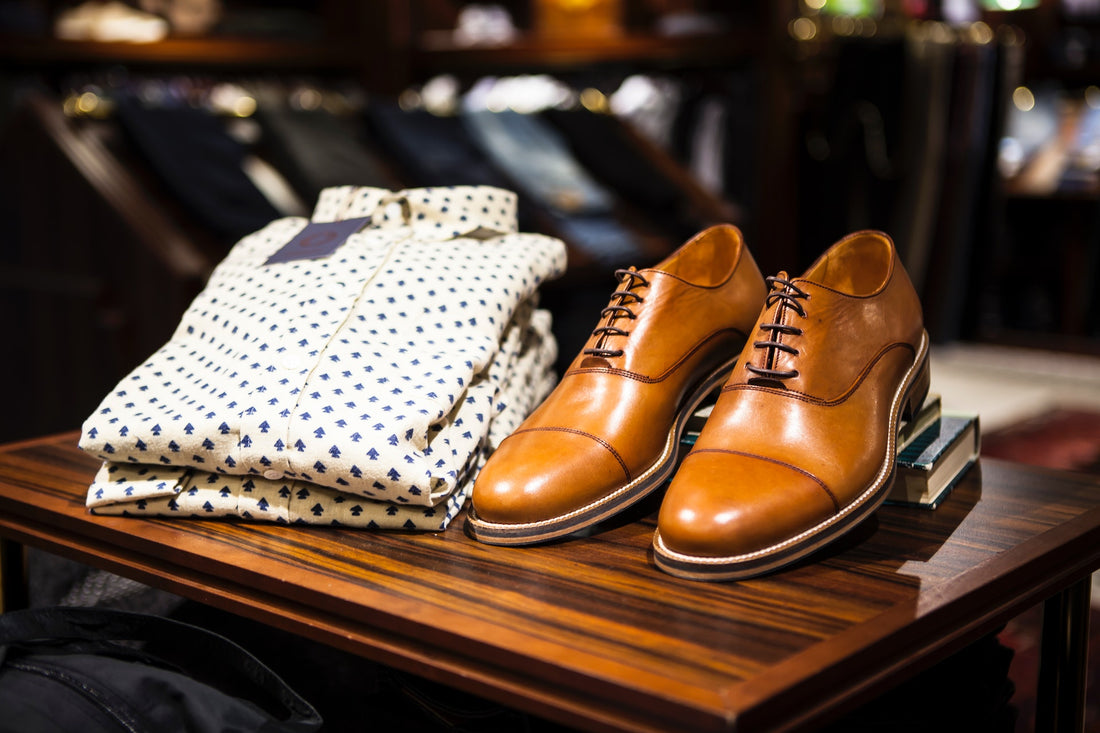 Men's shoes are an important part of the modern wardrobe as they offer a variety of options and styles. Whether you're looking for a classic, elegant look or an on-trend statement, there's always the perfect shoe for every occasion. Men's shoes are also available in different materials, from leather to faux leather to canvas and suede. It's important to know what you need and what to look for in order to find the best pair of shoes for the situation. In this blog, we will look at the different types of men's shoes and find out which ones are the most suitable. We'll examine which styles should be worn for which occasions and why getting the right size is so important.
The History of Men's Shoes
Goes back many centuries, in ancient times, men wore wooden shoes fastened to their feet with leather straps. Then, in the Middle Ages, men began to add more color and style to their boots and to modify them. These early men's shoes were made of leather or velvet and were often very richly decorated. In the 18th century, people started buying their shoes by fashion and style, which was a start for designer shoemakers. Numerous new designs and styles were invented, including loafers, wingtips, monk straps, and brogues. Fashion trends are constantly changing, but the basic shape of men's shoes has always remained the same.
In the 20th century, new materials came onto the market - synthetic fabrics and faux leather were used - and many new designs emerged. Lace-up boots, sneakers, and loafers became increasingly popular with young men, but there were also traditional leather shoes for men or suede shoes for formal occasions or special occasions.
Today you can find men's shoes in all kinds of styles: from classy leather shoes for men to casual sneakers and high heels! There are countless options for every taste - from the simple black leather shoe to the trendy pink slip-on shoe - so it's easy to find the perfect shoe for every occasion!
The Right Size for Men's Shoes
It is important to always keep the size in mind when choosing the right shoes. If the shoes are too big, they pinch in the wrong places and can be painful. If they are too small, they can become constricted and make them difficult to wear. So what should be considered when it comes to the sizes of leather shoes for men?
In order to find the right size for men's shoes, especially when it comes to leather shoes for men, it is best to take an exact measurement of the foot. It is therefore advisable to try them on in a store to find out what fits best. It's also a good idea to choose a pair of leather shoes for men with a slightly larger fit than usual. This leaves enough space for feet that swell while running or for socks. It's also worth remembering that there are differences in the sizing systems of different brands and you may need to go one size larger than usual.
A good way to find out what size you need is to measure your foot using a tape measure or ruler app. This gives the buyer an idea of ​​the ideal size and also enables them to use online shoe size charts for orientation. So you have more security and can avoid unpleasant return costs!
Different Shoe Models with Properties
Every classic man's shoe is described and defined on two hierarchical levels.
The super-ordinate category is the generic name. Accordingly, a shoe is a brogue, oxford, whole cut, or similar. This is usually called the model. At the same time, certain forms of entry (lacing) are always defined as an integral part of the model. A brogue always opens with a leaf cut. While a blucher without a derby cut (even derby lacing) is not a blucher.
Further attributions such as plain, cap toe, full, or half (semi) are added as subordinate specifications. They describe a model through supplementary attributes, within its model group. These attributions can also be understood as species within a genus.
For example, there is a Plain Oxford Leather Shoes for Men and an Oxford Cap toe. Both variants remain Oxford models. The linguistic order of model and attribute is irrelevant and matters of habit, as long as you keep the hierarchy in mind.
Different Types of Casual and Original Leather Shoes for Men
Oxford Leather Shoes for Men
The Oxford is the most formal of the classic men's shoes and at the same time extremely versatile. With a closed vamp and few dividing seams, it has a particularly reserved appearance. This makes it the perfect shoe for business occasions, where objectivity is not seen as a lack of individuality, but as an expression of seriousness and self-confidence.
Men can also celebrate in style at Oxford. Here it is the shoe of choice for festivities where a dark suit is expected. On the other hand, Oxford Leather Shoes for Men gives sporty clothing with jeans, chinos, and polo shirts an extra helping of class.
Legends surround the origins of Oxford. It is said that English students at Oxford University popularized this model in the mid-19th century. From the Biedermeier, we know similarly cut, flat women's original leather shoes made of fine glace leather. A takeover of the look by young snobs in an act of youth cultural appropriation does not, therefore, seem entirely improbable.
With a smooth, seamless vamp,the Plain Oxford displays suave reservedness. Only the side seams connect the vamp and quarters. Other dividing seams and decorations are missing.
Brogue Leather Shoes for Men
The brogue owes its popularity to the distinctive hole pattern. On the full brogue, this includes the wing cap with the lyre (hole pattern ornament) and the narrow hole pattern stripes on the edges of the heel cap and quarters. In terms of cutting, brogue leather shoes for men are characterized by a leaf cut (Oxford lacing). Embossed instead of smooth leather and a double sole can further underline the sporty-rustic character of this versatile shoe classic.
Up until a hundred years ago, the brogue was a weekend and casual shoe with style. It still is today, but now also accompanies suits and sporty combinations. Only at black tie occasions and those that used to be such, such as opera, theatre, weddings, and funerals, should lace patterns be used in homeopathic doses, i.e. as quarter brogues.
The history of the shoe is usually explained with a legend. According to this, the Scots and Irish are said to have drilled holes in their peasant shoes as a drainage device in order to dry shoes and feet after the Sunday walk through the high moor and before entering the church. That's not really likely. The thrifty Scots were more likely to have gone barefoot and saved their shoes for church. Nevertheless, the morass story persists.
The full brogue traditionally combines the Lyra wing cap with a five-hole lacing. Fashionable variants can vary the number of eyelets. As a rule of thumb, the more prominent the holes, the more structured the surface and the sportier the shoe.
The half brogue features a smoothly stitched cap-toe style cap instead of the wing cap. The hole pattern on the cap is usually more ornamental and detailed than on the full brogue. The holes on casual leather shoes for men are noticeably finer.
The Quarter brogue looks confusingly similar to an Oxford Cap toe. The only difference: A perforated band along the dividing seams (broguing) looks discreetly decorated. For formal business and black-tie occasions, the quarter brogue in a black box calf is largely on par with the oxford.
Derby Leather Shoes for Men
The Derby Leather Shoes for Men shares the reserved, adaptable look with the Blücher. With the practical derby cut, it also has the same high utility value. Nevertheless, it appears more civil with a dividing seam on the side, without completely discarding his uniform closeness. This is not necessarily meant militarily. Architects, for example, are naturally fond of uniforms, often preferring solid constructions when it comes to clothing (dark suit) and shoes (derby), and prefer to invest their time in their work rather than in personal styling.
The character of this shoe also varies in the Derby due to the shape of the last and the color. Body-hugging shapes in dark leather appear classier while elongated Mediterranean shapes in light tones emphasize the fashionable innovation.
The quintessential Derby is the Plain Derby. In its consistent simplicity, it has not changed for a hundred years because it has proven itself unchanged. Never change a winning style.
At first glance, a derby cap-toe can resemble an elegant quarter brogue with the broguing pattern on the edges of the toe cap, quarters, and heel cap. With a derby cut and double-stitched double sole, confusion is impossible, and the greater down-to-earthiness is unmistakably evident.
Final Words
Nowadays there are a variety of leather shoes for men that are suitable for different occasions. Classic leather shoes for men in black or brown are usually worn for the business look. These shoes are ideal for formal occasions, such as business meetings or dinners. If you have to stand for a long time, you should pay attention to more comfortable and lighter models. Sporty sneakers are perfect for everyday wear and can also be worn on informal occasions. For special occasions, like weddings or birthdays, shiny leather shoes for men in tan or dark brown are a good choice. Leather Shoes for Men look elegant and stylish and go with any outfit. Last but not least, loafers are a good combination of comfort and style. Most of these shoes are made of leather or suede, making them very durable and long-lasting. With the help of these versatile shoe types, the perfect shoe for every occasion is easy to find!
Author Bio

Meet Rijul Soni driven by a passion for education and staying updated with evolving trends, Rijul Soni embarked on a journey of knowledge-sharing through blogging. He hails from Punjab and has pursued B.Tech from NIT Jalandhar. After working as an Operations & Analytics Consultant in Bangalore, he joined Zoom Shoes, his family's business. As the 'Head of Brand E-Commerce,' Rijul propelled Zoom Shoes to new heights, making it available on major marketplaces. With a vision to be India's top brand for genuine leather footwear, their motto is #LetsBuildTogether.