Shoes without Laces: 8 Ideas for Wearing Slip-Ons for Men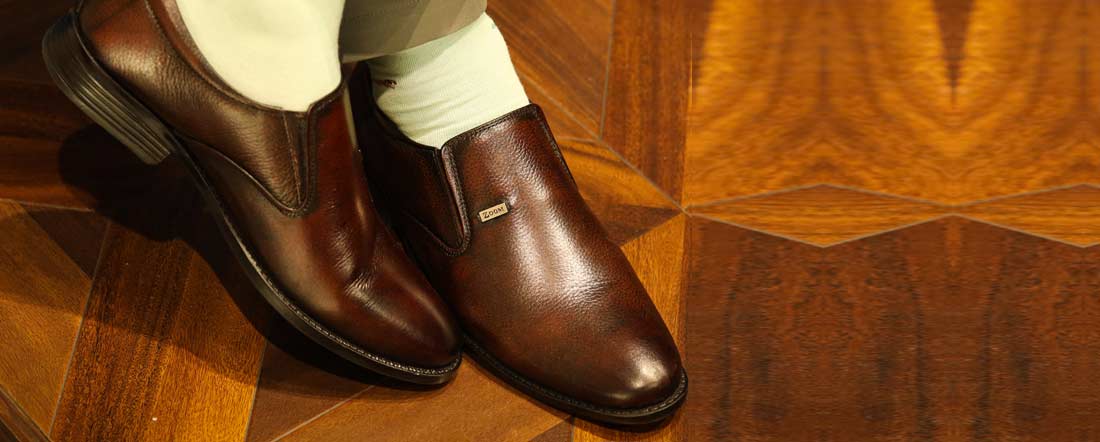 If you are a style lover and prefer to adorn comfortable as well as convenient footwear, then slip-on shoes for men are the ideal pick for you. Easy-to-wear kicks are a staple in almost every man's wardrobe. These extremely stylish and versatile slip-on shoes for men are ideal for almost all kinds of occasions. Moreover, the classic aesthetics and availability in various colors as well as material options contribute immensely to its popularity. Be it black slip-on shoes, leather slip-on shoes, or casual slip-on shoes, you are sure to rock your day if you adorn them correctly. Styling them perfectly is the key to being a trendsetter.
In this blog, we are going to explore various ways to wear slip-on shoes for men. From the basics to creative options, we are going to discuss the most appropriate slip-on shoe styling ideas to enhance your look and set you apart from the crowd.
1. Casual And Comfy' Slip-On Shoes For Everyday Affairs
Slip-on shoes for men are the best when you want to keep it simple yet classy. Comfortable footwear is not just easy to adorn, but it also gives the utmost comfort. You can pair the black slip-on shoes with any swell-fitted jeans and a smart t-shirt. If you are planning to go to the office or for a semi-formal meeting, then putting on a casual blazer will add a touch of sophistication to your look. The combination of slip-on shoes and a blazer or t-shirt can never go wrong. It is suitable for a range of occasions, be it a brunch with friends or a casual date night. You are all set to just rock n roll with this ensemble.
2. Dress To Impress With Slip-On Shoes For Men
Yes, you read that right. Slip-on shoes can be dressed up for formal occasions too. The men's leather slip-on shoes are ideal to sharpen your tailored suit and give you a different look. Go for a sleek pair of leather slip-on shoes to enhance your outfit and flaunt a style statement. The without laces clean and timeless feel You can also experiment with various colors and slip-on shoe materials as well as styles to highlight your mode quotient and step up your style.
3. Set The Exercise Vibrations With Men's Slip-On Shoes
Get the perfect blend of sporty and elegant looks with these slip-on sneakers. They appear distinctive and are a true showstopper. You can explore an elaborative range of slip-on shoes for men, as they are available in plenty of styles. From minimalistic to bold, you can match your men's black slip-ons with tailored joggers and a well-fitted sweatshirt to set the desired athleisure vibe.
4. Be Beach-Ready and Adorn Slip-On Shoes in Vacation Mode!
Heading to the beach or a tropical destination? Slip-on shoes for men are the ideal pick for all savvy travelers. The lightweight slip-ons enable you to easily slip on and off when hitting the sand. You can go for a vibrant color or pattern to embrace the vacation vibe.
5. Explore the Smart and Casual Combo With Slip-On Shoes
Chinos and slip-on shoes make for a smart casual, which is ideal for almost all types of semi-formal events. Try men's leather slip-on shoes in a rich brown tone and pair them with your chinos to get a complete look. Adding a leather belt to your ensemble will take it to another level as it effortlessly transitions from day to night.
6. Pick Edgy Style With Slip-On Shoes For Men
If you prefer more urban, edgy, and rugged styling, slip-on shoes for men are the ideal go-to footwear for you. You can combine it with ripped jeans and a graphic tee for a seamless street-style look. Slip-on shoes also go well with a denim jacket or a leather jacket.
7.Explore Monochrome Magic!
You can also experiment with monochrome styling with slip-on shoes for men. Go for slip-on shoes for men that match the color of your pants or toes. Try one tone for pants and shirts to create an attractive monochrome feel together. This simple yet effective style tip can work with various slip-on shoe colors.
8. Follow The Sockless Trend With Slip-On Shoes For Men
You can also embrace the slip-on look and go sockless. You can adorn slip-on shoes for men that are designed for barefoot wear. They can also allow you to show off your ankles. You can pair them with rolled-up pants or shorts for a relaxed and casual appearance.
Conclusion
Step into style! Elevate Your Wardrobe with Slip-On Shoes for Men
Slip-on shoes for men are immensely versatile and easy to pair. From casual outings to formal events, these shoes can go well on any occasion. Whether you prefer classic leather black slip-on shoes or want to explore different colors and patterns, slip-ons are a must for fashion enthusiasts. So now, slip into comfort and style with slip-on shoes that suit your personality and boast your style or attitude.
Author Bio

Meet Rijul Soni driven by a passion for education and staying updated with evolving trends, Rijul Soni embarked on a journey of knowledge-sharing through blogging. He hails from Punjab and has pursued B.Tech from NIT Jalandhar. After working as an Operations & Analytics Consultant in Bangalore, he joined Zoom Shoes, his family's business. As the 'Head of Brand E-Commerce,' Rijul propelled Zoom Shoes to new heights, making it available on major marketplaces. With a vision to be India's top brand for genuine leather footwear, their motto is #LetsBuildTogether.