How to put on high ankle boots correctly?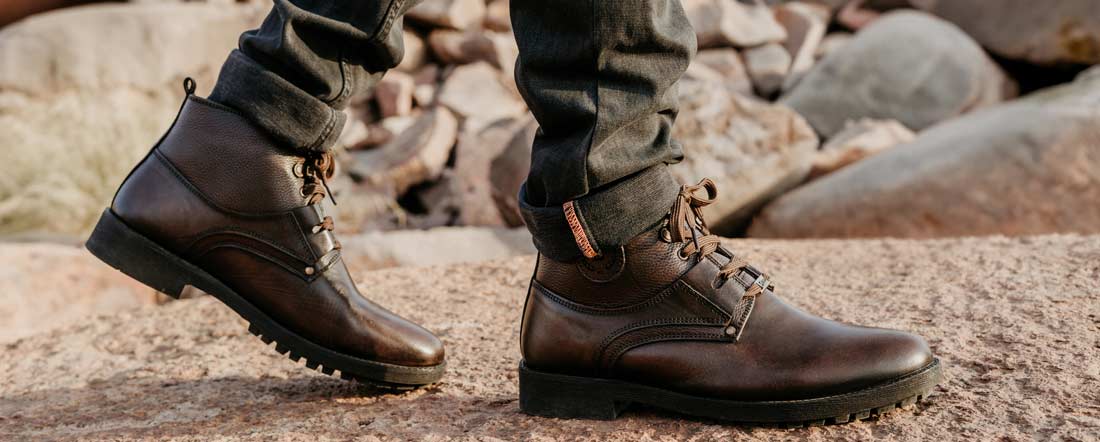 There's some choices in our life that a male makes which separates man from boys, high ankle boots is certainly one of them. If you are looking for a footwear option that is bold & makes a statement then high ankle boots for mens are your go-to choice!
In this blog, we will be throwing some light on the reasons for the craze behind high ankle boots & also will also answer some of the burning questions that often arise around these bold fashionable pieces of statement
Why Are High Ankle Boots So Popular?
High ankle boots are especially designed to add an extra layer of protection for ankles, providing them exceptional ankle support. Thus making them a perfect footwear partner for activities such as hiking, travelling as their added support helps you maintain balance on uneven & challenging terrains.
When it comes to function they are truly a showstopper, but there's more to it. They are also well known to add masculine vibe to the outfit. Pair them with a graphic tee with a biker leather jacket and you are ready to rule the streets with your favourite wheels.
Should short men wear high ankle boots?
The answer is both - "Yes" & "No"
It depends on the stature of a person. Moreover the choice is limited because if your height is below the ideal height you wear a high ankle boot, it will make your legs appear smaller. Ultimately make you appear shorter, which we never wanted in the first place.
To address this issue properly, you should opt for mid ankle or short ankle boots such as chelsea boots, chukka boots many more. This will add some extra inches without disturbing your actual visual stature.
What to wear black leather Chelsea boots with?
Black Chelsea boots are a very popular option in the high ankle boots category. If you want to rock black leather chelsea boots, there are numerous outfits to style with such as:
Slim-Fit Jeans : Black leather chelsea boots look stunning when paired with slim-fit jeans be it light or dark shade. You may also tuck the jeans in the boots for a modern & clean look.
Chinos : Black leather chelsea boots work great with a variety of chinos, from light Khaki to solid blue. You may pair them with your favourite chino for a smart semi-casual appearance.
Suits : Who said chelsea are only casual, black leather chelsea boots are the perfect footwear option to add a layer of grace to any suit.
Leather Jackets : How can we miss the jackets, if we are referring to boots. Black Chelsea leather shoes with jackets creates a classic yet edgy appeal on your behalf.
Trendy Coats or Cardigans : If you are a big fan of cardigan or trendy coats, then black leather Chelsea boots are a must have for you.
When should men wear ankle boots?
Well there's no rocket science as such to wear high ankle boots, men can wear high ankle boots on different occasions. Here's are some of these were these bold footwear option can complement your outfit:
Travel : As we discussed, the shoe is well known for providing ankle support which makes them a practical & comfortable option for long walks or wandering to the unexplored.
Season Wear : High Ankle Boots are so versatile that they can be worn in any weather. Be it whether it be the sunshine of the winter mornings, or the night walks of the summer - if chosen accurately on the basis of material & design.
Workplace : If you are a teacher, working professional, mechanic or be in any sort of profession, high ankle boots can be a stylish yet sophisticated choice for the workplace depending on the dressing code & conduct.
Causal Events : Wants to go shopping or brunch, high ankle boots not only protects your feets from busy streets but also helps you to make a style statement.
How to check original leather shoes?
It might sound like a challenging task to distinguish genuine leather, but there are ways to determine the authenticity of original leather shoes. Here're some:
Labels : Tags are the medium that a leather manufacturer is really proud of sharing the product's details. Check for the tags on the original leather shoes that mention "real leather" or "genuine leather".
Surface : Original leather shoes have unique grain patterns, pores & pebbles on the surface. On the other hand shoes made from synthetic leather are even, polished & uniform.
Smell : Original leather shoes smell like real leather - the distinct, sweet smell similar to the smell of skin. In contrast, synthetic materials often smell like plastic or chemicals.
The Burn Test : As mentioned, if a shoe is made of synthetic leather - it will burn just like plastic or chemicals. While the original leather shoes don't catch fire easily.
Pricing : Genuine leather shoes or original leather shoes are way more expensive than the synthetic leather shoes. So if a deal seems too good to be true, then it might not be the original leather.
Final Verdict
High ankle boots have firmly established themselves as a prominent choice in the world of footwear, thanks to their combination of fashion and function. Their adaptability, ankle support, and trend-setting style make them a top pick for individuals of all heights and style preferences.
Whether you're dressing for a special occasion, embarking on outdoor adventures, or attending a semi-formal event, high ankle boots provide the perfect blend of style and practicality. So, lace up those boots correctly, step out with confidence, and make a fashionable and sensible choice with high ankle boots for all occasions.
Author Bio

Meet Rijul Soni driven by a passion for education and staying updated with evolving trends, Rijul Soni embarked on a journey of knowledge-sharing through blogging. He hails from Punjab and has pursued B.Tech from NIT Jalandhar. After working as an Operations & Analytics Consultant in Bangalore, he joined Zoom Shoes, his family's business. As the 'Head of Brand E-Commerce,' Rijul propelled Zoom Shoes to new heights, making it available on major marketplaces. With a vision to be India's top brand for genuine leather footwear, their motto is #LetsBuildTogether.