High Ankle Boots for Men - Which Model to Choose and How to Wear Them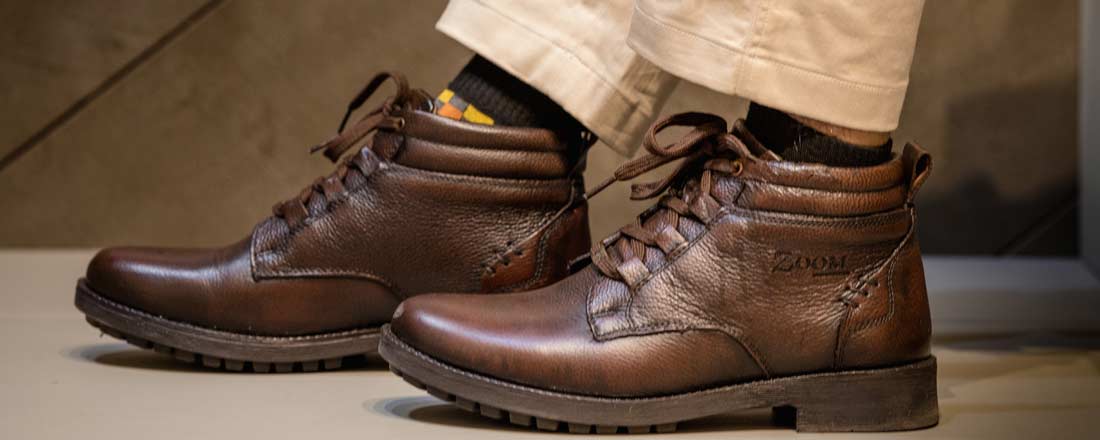 High ankle boots are a stylish and versatile footwear option for men that have gained significant popularity in recent years. Characterized by their height, these high ankle boots for men offers a unique blend of fashion and functionality. In this post, we will explore the different models of high ankle boots available, discuss factors to consider when choosing the right pair, and provide styling tips for various occasions.
Understanding Different Models of High Ankle Boots For Men
Classic Ankle Length Boots for Men
Classic high ankle boots for men are a timeless option that exudes sophistication and elegance. Featuring a sleek and streamlined design, these boots often come in a lace-up or zip-up style. They are typically made from high-quality leather or suede, which enhances their durability and adds a touch of luxury.
Features and Design Elements
Classic leather ankle shoes often boast a slim silhouette with minimal embellishments. The smooth leather or suede material gives them a refined and polished appearance. Some designs may incorporate subtle stitching details or decorative brogue patterns, adding a touch of personality to the boots.
Suitable Occasions and Dress Codes
These classic high ankle boots for men are a versatile choice that can be paired with both formal and semi-formal attire. They work exceptionally well with tailored trousers or dress pants, making them ideal for business meetings, formal events, or even a night out on the town.
Chelsea Boots
Originally popularized in the mod scene of the 1960s, Chelsea boots have remained a beloved style throughout the years. Their distinctive feature is the elasticized panel on the sides, allowing for easy slip-on and a snug fit. Chelsea boots are known for their versatility and can be effortlessly dressed up or down.
Characteristics and History
The Chelsea boots are characterized by their ankle height, smooth leather construction, and elastic side panels. The absence of laces gives them a clean and minimalist look, perfect for those who appreciate simplicity. Originating from the Victorian era, these high ankle boots were initially designed for equestrian purposes but quickly became a staple in fashion due to their comfort and style.
Versatility in Styling
Chelsea boots are incredibly versatile, making them suitable for a wide range of occasions. They can be dressed up with a tailored suit or down with a pair of slim-fit jeans. Additionally, these boots seamlessly transition from day to night, making them a reliable and fashionable choice for any event.
Brogue Boots
Brogue boots offer a unique combination of elegance and casualness, making them perfect for those who want to make a subtle fashion statement. These boots feature the classic brogue perforations and patterns typically found on dress shoes but in a boot form.
Distinctive Features and Origins
Brogue boots are recognized by their decorative perforations, known as broguing, which are typically found along the edges of the shoe and on the toe cap. This distinctive detailing adds a touch of sophistication to the boots. Originally, brogue shoes were designed for Scottish and Irish men who needed durable footwear for outdoor activities.
Perfect Blend of Elegance and Casual
These High Heel Ankle Boots strike the perfect balance between elegance and casualness, allowing them to be worn for a variety of occasions. They can be paired with cuffed jeans for a relaxed yet refined look or worn with fitted trousers to elevate a formal outfit. The versatility of brogue boots makes them a must-have in any stylish man's wardrobe.
Combat Boots
If you're looking for a rugged and edgy style, combat boots are the way to go. These boots have a military heritage and are known for their durability and sturdy construction. Paired with the right outfits, combat high ankle boots for men can make a bold fashion statement.
Military Origins and Rugged Appearance
Combat boots were originally designed for soldiers, providing them with superior protection and support in demanding environments. Their rugged appearance, with features like laces and sturdy soles, reflects their military origins. Today, combat boots have been embraced by the fashion world, offering wearers a rebellious and adventurous aesthetic.
Edgy and Masculine Style Statement
With their tough and masculine allure, combat boots are perfect for creating edgy and alternative looks. They can be combined with ripped jeans and a leather jacket for a rock-inspired outfit or paired with cargo pants for a more casual and utilitarian ensemble. The versatility of combat boots makes them a popular choice among those who want to inject a dose of ruggedness into their personal style.
Factors to Consider When Choosing High-Ankle Boots For Men
When selecting high ankle boots for men, it is crucial to consider certain factors that can greatly impact your comfort and overall satisfaction with the purchase.
Comfort and Fit
Importance of Proper Sizing and Testing
To ensure maximum comfort, it is essential to choose high ankle boots that fit properly. Take accurate measurements of your feet and refer to size charts provided by the manufacturer. If possible, try on the boots before purchasing or opt for online retailers with lenient return policies.
Materials and Construction for Comfort
The materials used in the construction of high ankle boots for men greatly impact their comfort. Look for boots made from flexible yet durable materials, such as quality leather or suede, which adapt to the shape of your feet over time. Additionally, consider features like padded insoles and cushioned linings that provide extra comfort during prolonged wear.
Quality and Durability
Investing in high-quality boots is crucial for long-term durability and overall satisfaction. Check for solid construction, such as reinforced stitching and a robust sole. Leather or suede uppers offer durability and resistance against wear and tear, ensuring your high ankle boots for men withstand the test of time.
How to Wear High Ankle Boots For Men: Styling Tips
High ankle boots for men offer endless possibilities for creating stylish and fashionable looks. Whether you're aiming for a formal or casual ensemble, these boots can be seamlessly incorporated into various outfits.
Formal and Business Attire
Pairing High Ankle Boots with Suits
Contrary to popular belief, high ankle boots like Mens Chukka Boots can be an excellent choice for formal occasions when worn correctly. Opt for sleek and minimalist designs, like classic lace-up boots, and pair them with tailored suits. Ensure that the boots complement the color and overall aesthetics of the suit for a polished and sophisticated look.
Dressing Up for Professional Occasions
When attending business meetings or professional events, high ankle boots for men can add a modern edge to your outfit. Pair high ankle boots for men with well-fitted trousers and a crisp button-up shirt for a sharp and professional appearance. Consider experimenting with different textures and colors to create an eye-catching ensemble.
High Ankle Boots for Men for Casual and Everyday Looks
Rocking High Ankle Boots with Jeans
High ankle boots and jeans make for a winning combination. Opt for slim or straight-leg jeans that can be effortlessly tucked into the high ankle boots for men to showcase their full glory. For a casual and laid-back outfit, pair them with a graphic tee and a leather jacket. Alternatively, dress them up with a shirt and blazer for a more refined yet relaxed look.
Experimenting with Different Outfits
One of the greatest advantages of high ankle boots for men is their versatility. Don't be afraid to have fun and experiment with different outfits. Try pairing them with chinos or corduroy pants for a preppy look or team them up with shorts and patterned socks for a contemporary and trendy vibe. The key is to let your personal style shine through and express yourself confidently.
Frequently Asked Questions (FAQs)
Are high-ankle boots for men suitable for all body types?
Yes, high-ankle boots are suitable for all body types. The key is to choose the right model and fit that complements your body proportions. For individuals with shorter legs, opting for high-ankle boots for men with a slightly higher heel can create the illusion of elongated legs. Those with longer legs can confidently choose any model that suits their style preferences.
Can high-ankle boots for men be worn in warm weather?
While high-ankle boots are generally associated with colder months, they can still be worn in warm weather with the right outfits. Choose breathable materials like suede or perforated leather to allow airflow. Pair high-ankle boots for men with lightweight clothing, such as linen or cotton, to create a balance between style and comfort.
How can I break in new high-ankle boots without discomfort?
Breaking in new high-ankle boots for men can sometimes be uncomfortable, but there are steps you can take to minimize discomfort. Start by wearing them for short periods, gradually increasing the duration as your feet adjust. Applying a small amount of leather conditioner or using a specialized boot-stretching spray can help soften the leather and make it more pliable. Additionally, wearing thicker socks during the initial stages can offer extra cushioning and protect against blisters.
What are some alternative ways to style high-ankle boots for men?
High-ankle boots are incredibly versatile and can be styled in various ways. Consider pairing high-ankle boots for men with tailored shorts and a button-up shirt for a stylish summer look. For a grunge-inspired outfit, team them up with ripped jeans and a band t-shirt. Don't be afraid to think outside the box and experiment with different combinations to create unique and personalized ensembles.
Are high-ankle boots for men appropriate for formal occasions?
Yes, high-ankle boots can be appropriate for formal occasions when chosen and styled correctly. Opt for classic and sleek designs, such as lace-up boots, and pair them with tailored suits or dress pants. Ensure that the boots complement the overall aesthetics of the outfit and maintain a polished and sophisticated appearance.
Conclusion
High ankle boots for men offer a wide range of styles, versatility, and fashion-forward appeal. Understanding the different models available, considering factors such as comfort and fit, and knowing how to style them appropriately can elevate your fashion game to new heights. Whether you're aiming for a formal or casual look, high-ankle boots have the potential to enhance your overall style and make a lasting impression. So, go ahead and choose the pair that speaks to your unique personality and confidently step into a world of fashionable possibilities.
Author Bio

Meet Rijul Soni driven by a passion for education and staying updated with evolving trends, Rijul Soni embarked on a journey of knowledge-sharing through blogging. He hails from Punjab and has pursued B.Tech from NIT Jalandhar. After working as an Operations & Analytics Consultant in Bangalore, he joined Zoom Shoes, his family's business. As the 'Head of Brand E-Commerce,' Rijul propelled Zoom Shoes to new heights, making it available on major marketplaces. With a vision to be India's top brand for genuine leather footwear, their motto is #LetsBuildTogether.