10 Celebrities Who Love Wearing Men's Chukka Boots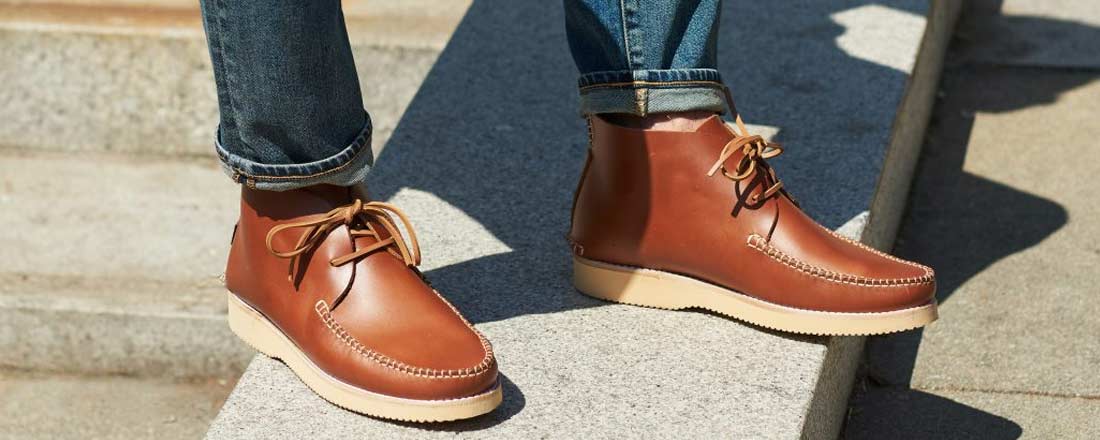 If you're looking for a versatile, stylish, and comfortable pair of boots, look no further than the Chukka! This timeless style of footwear has been around since the 1940s. However, it has gained popularity in recent years. Celebrities are often seen sporting this classic shoe with their own unique twist. Here are 10 famous celebrities who have been spotted wearing men's Chukka boots:
Daniel Craig
Daniel Craig, best known for his role as James Bond, is often seen sporting a pair of Chukka boots. Craig's preference is for a pair of chukka boots which he wears with slim-fit suits and casual outfits alike.
David Beckham
David Beckham has always been a stylish icon in the world of sports and fashion. He's been spotted in several different pairs of Men's Chukka boots, but his favorite would have to be the suede and leather version. He embraces a laidback look by pairing them with jeans and a casual shirt.
Ryan Gosling
Ryan Gosling is not only an incredible actor, but he also has an eye for fashion. He's been spotted wearing a pair of brown Chukka boots, pairing them with a white t-shirt and a denim jacket. This look gives off a rugged yet sophisticated vibe.
Bradley Cooper
Bradley Cooper is another celebrity who loves to wear Chukka boots. He often opts for a black chukka boots, which he pairs with a suit or dress pants. This creates a polished and professional look.
Kanye West
Kanye West is no stranger to the Men's Chukka boots! The rapper and fashion icon has been seen wearing an all-black pair with skinny jeans and a hoodie. This particular look has become one of his signature styles.
David Duchovny
David Duchovny, best known for his role in The X-Files, has a very classic sense of style. He has been spotted wearing a pair of dark brown Men's Chukka boots. He pairs them with a crisp white shirt and dress pants. This look is timeless and sophisticated.
Shia LaBeouf
Shia LaBeouf has a very unique sense of style, and he's not afraid to take risks. He's been spotted wearing a pair of bright yellow Chukka boots on multiple occasions. This bold choice adds a pop of color to his outfits.
Orlando Bloom
Orlando Bloom's style is always polished and put-together. He has been seen wearing a pair of black Chukka boots both on the red carpet and in his day-to-day life. They pair nicely with a suit or dress pants, creating a sleek and streamlined look.
Harry Styles
Harry Styles of One Direction is known for his unique and eclectic fashion choices. He is often spotted in bold printed shirts and bright colors. However, he has also been seen in a pair of classic brown Chukka boots with skinny jeans and a sweater.
Idris Elba
Idris Elba is known for his impeccable style, and his love for Men's Chukka boots is no exception. He's been spotted in several different pairs, including a black leather option. He pairs them with jeans and a leather jacket, creating a stylish yet relaxed look.
Conclusion
It's no surprise that celebrities love Men's Chukka boots. This classic style of footwear is versatile, comfortable, and stylish. With so many different options on the market, it's easy to find a pair that fits your own personal style. Whether you prefer a classic brown leather pair or a bold and colorful option, there's a Chukka boot out there for everyone!
Author Bio Author Bio

Shravan SinghMeet Rijul Soni driven by a passion for education and staying updated with evolving trends, Rijul Soni embarked on a journey of knowledge-sharing through blogging. He hails from Punjab and has pursued B.Tech from NIT Jalandhar. After working as an Operations & Analytics Consultant in Bangalore, he joined Zoom Shoes, his family's business. As the 'Head of Brand E-Commerce,' Rijul propelled Zoom Shoes to new heights, making it available on major marketplaces. With a vision to be India's top brand for genuine leather footwear, their motto is #LetsBuildTogether.