How to Choose the Right Lace Up Shoes for You?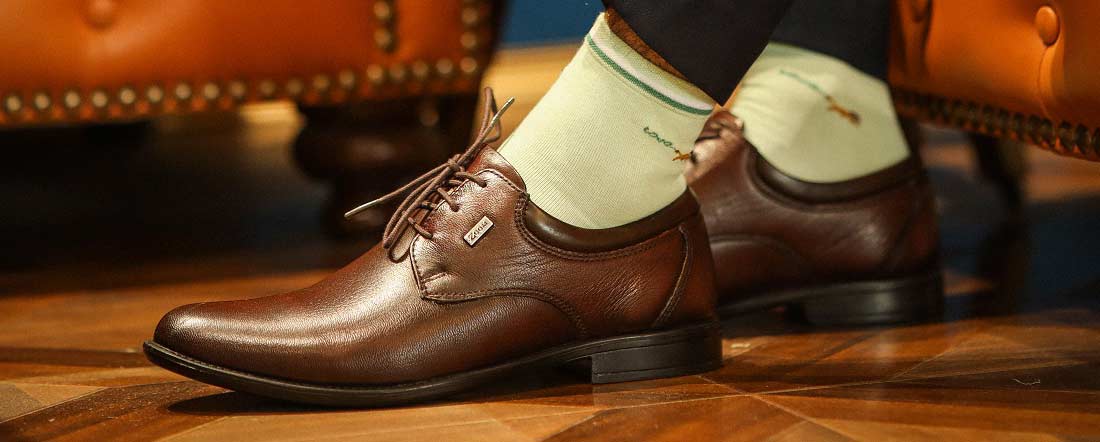 "Everything is important - that success is in the details" - Steve Jobs.
We can't agree more to this, while being in the emerging industry of men's footwear. Yes it's true that it's hard to keep up with the fashion trend but there are some classic footwear options that are known for their statesmanship for ages.
In today's read, we will be exploring the versatility of such one - the lace up shoes, also we will uncover some interrogation that is being made around them. Let's first understand - what a lace up shoe is?
What are lace up shoes?
As the name suggests, the shoes with the laces are called lace up shoes. If we were talking about history, there were no such records that depict the exact origin of lace-up shoes.
But the claims are that they were first worn by ancient Greeks & Romans around 2000 BC, as they provided the secure tight fit which helps them to perform their various military & other sort of operations.
Coming back to today, we also have the evolved versions of lace-ups available to cater our various kinds of modern styling & functional needs, in which most famous one's are casual lace-up shoes which includes boots & formal shoes such as Oxfords, Derbies or Brogues.
What is the difference between lace up and normal shoes?
As we stated earlier, mens lace-ups shoes are recognised with the laces that are being attached to their body. These categories of shoes include both formal lace up shoes for mens & mens casual lace up shoes. And it totally depends on the demand of the occasion or personal preference to opt one for the same.
Normal shoes, referring to a vast category of shoes includes sneakers, sports shoes, formals & many more. There's no such specification criteria for a shoe to be a part of this category. A lace up can be always considered as a normal shoe, but a normal shoe is always a lace up; this might not be true for every case.
Which is better lace up or slip on?
Honestly, both are best if paired correctly with the outfit!
While best lace-up shoes are known to provide you one of the finest fit in the formal shoes segment. The mens lace up shoes are considered the best choice for events such as weddings or business meetings.
Slip ons kept you on a bit of a casual side of mens footwear, offering you a more comfortable wearing session & ease to slip in/off. They can be your go-to option for a casual meeting, shopping or having a walk with friends.
Are lace up shoes in style?
Yes, honey. They are!
And they will, I mean why not. Just look at this dapper range of men's footwear. There's no other than mens lace up shoes that can serve the purpose. Imagine you have a meeting at your boss's house next thursday night, what will be your go to choice?
A nice pair of tuxedo or a suit, right?
What else can go best with the outfit, no other than a tailored custom fit lace up that not only compliments your suit's shade and style but the evening also.
What are different types of formal lace up shoes?
When shopping for lace-up shoes, whether formal or casual, it's crucial to consider factors like fit, material, and your intended use. Look for high-quality leather if you're investing in formal shoes, as it ensures durability and a polished appearance. For casual lace-up shoes, prioritise comfort without compromising on style.
On the basis of formal aspect, lace-ups can be further categorised into major four categories which are:
Classic Oxfords: The Epitome of Elegance
When it comes to formal lace-up shoes, Oxfords are considered to be the kings of the formal category. They are the first choice to display the sophistication required for the black-tie events, or important business meetings. 
Surrounded by the ear laps that are tangled with laces, the whole shoe seems to be crafted from a single piece of leather. The meticulous craftsmanship & the classic design make them the first choice of every business professional out there.
Brogues: A Touch of Detail
Remember the details we were talking about in the beginning of the blog, Brogues are about it all!
These mens lace up shoes are considered by those who have an inclination towards intricate detailing. While brogues may not be appearing as the most formal choice they depict a perfect blend of both the formal and the casual aspect.
This lineup of lace up shoes for men can be used for a white variety of events, formal and casual events while paying up the different range of bottoms such as formals pants, Chinos and many more.
Derby Shoes: Versatile and Stylish
Derby's were first being introduced for the working persons who are indulged in physical operations rather than being as a style statement.
But later, the convenience of having an open lacing system leads it to be another popular choice in the space of mens lace up shoes footwear. This makes them an excellent option for those seeking both style and comfort.
Derby shoes are available in a lot of different materials such as leather, suede which makes them suitable for mens formal & mens casual lace up shoes as well.
Lace-Up Boots
Those men who appreciate adventures in life - need's footwear that matches up to their thrill backing them up on the rough roads & patches. That's where lace up boots come into play, while offering extra secure fit, these leather lace-up boots also protect your feet from the rocks & other entities on the way.
Final Verdict
Lace-up shoes, regardless of style or formality, are essential elements of a gentleman's wardrobe. The best lace-up shoes combine craftsmanship, quality materials, and timeless design. They leave a lasting impression, whether you're dressing for a formal event, embarking on a journey, or simply heading to the office. Your lace-up steps add a layer of sophistication to your overall outfit, no matter the occasion.
Author Bio

Meet Rijul Soni driven by a passion for education and staying updated with evolving trends, Rijul Soni embarked on a journey of knowledge-sharing through blogging. He hails from Punjab and has pursued B.Tech from NIT Jalandhar. After working as an Operations & Analytics Consultant in Bangalore, he joined Zoom Shoes, his family's business. As the 'Head of Brand E-Commerce,' Rijul propelled Zoom Shoes to new heights, making it available on major marketplaces. With a vision to be India's top brand for genuine leather footwear, their motto is #LetsBuildTogether.